How an Attic Lift Can Help When Closing Your Pool for Winter
It's that time of year! School is back in session and there's a chill in the air for some of us. In just a couple of months, the leaves will begin to fall from the trees. It's time to start thinking about what to do with your swimming pool supplies. Sure, they could be stored in the garage or a shed. But, imagine having the ability to store them up, and out of your way; allowing you to use your shed and garage for their intended purposes.
The Importance of Properly Storing Pool Equipment
Having a swimming pool at home is a lot of fun, but also a lot of work. Once the season is over, you have to find a place to store all of your floats, toys, chemicals, and pool vacuum.
Did you know that if pool chemicals aren't stored properly, they can potentially become hazardous? It's best to store these items out of anyone's reach to avoid any issues. You want to ensure your pool equipment is not exposed to sunlight and kept away from flammable items. Your attic is a great place to store these things because not only will it be safe, but it will not add clutter to your garage or shed!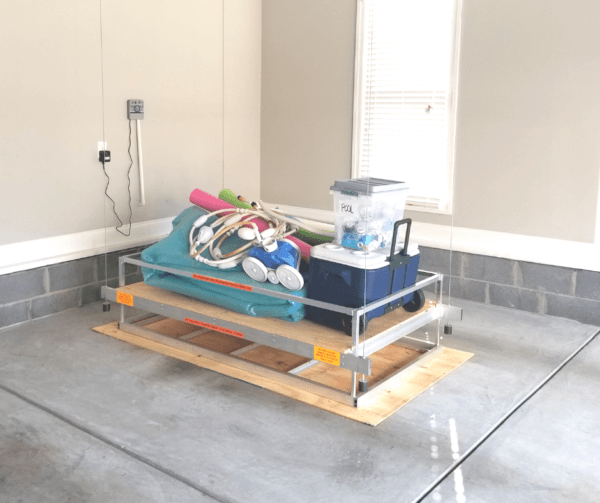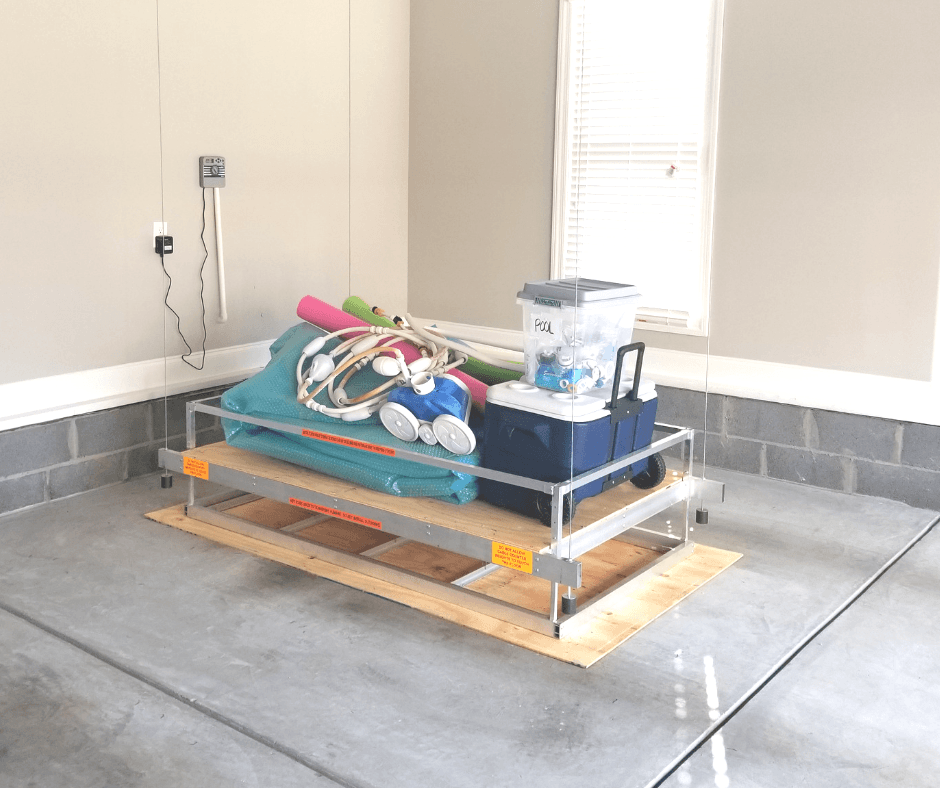 How an Attic Lift Can Help Store Your Pool Equipment
The safe and simple solution to storing your pool equipment is an Aladdin Storage Lift. The Aladdin Storage Lift is a key-operated, motorized platform lift to safely transport heavy, bulky, or cumbersome items to and from your attic for storage.
An attic lift safely raises those swimming pool supplies into your attic where they are out of your way until next summer. You don't have to lug them up the attic pull-down stairs if you have an Aladdin Storage Lift. Simply turn the key to your attic lift and watch as those five-gallon buckets of chemicals, salt, and other pool supplies gently ascend into your attic for affordable, out-of-the-way storage.
No more storing your pump accessories, lifesaver rings, leaf nets, poles in your way. Load up the cart and turn the key: your pool supply clutter is out of your way!
Click https://www.aladdinstoragelift.com/shop/ to see how easy and affordable the Aladdin Storage Lift can be and simplify your end-of-summer storage challenges.
Save this article to your Pinterest board so you can easily reference it later!